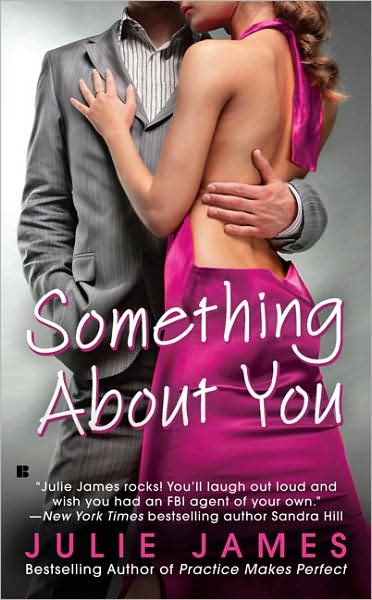 I first heard about Julie James's Something About You through the "Save the Contemporary" promotion over at Smart Bitches. I kept hearing all sorts of positive reviews so I decided to give it a try. I actually really like contemporary romance novels---when they're done right. And this one was done right. (I don't know how to fix this space...)
The heroine, Cameron, is an Assistant United States Attorney. As a lawyer myself, it is sometimes frustrating to read about characters who are also lawyers because sometimes it is just so poorly done. See Christina Dodd, Trouble in High Heels. However, I think Julie James is a lawyer herself, so she knows what she's doing. And as someone who worked for a federal public defenders office for a year, I can attest that she knows what she's doing with an AUSA.
Hero, Jack, is an FBI agent who used to work with Cameron years ago until she dismissed one of his cases and he bad-mouthed her to the media. His punishment was to be transferred from Chicago to Nebraska for three years. But when he moves back to the Chicago office, the two of them run into each other again.
The way Jack and Cameron's story was set up really worked for me. I like that they have a history together. Too often in romance novels the relationship moves so quickly that it is hard to believe it. By assuring the reader that the characters know each other well from a multi-year professional working relationship, it makes their eventual romance seem genuine and believable.
Also, the action/mystery aspect of this book never overshadowed the romantic relationship; it flawlessly moved it along, however. I've read enough books to know that that is not always easy to do. For all of these reasons, I'm really impressed with Julie James. My biggest complaint about contemporary romance novels is that the heroines are usually not very intelligent. I think that Nora Roberts' success is due in large part to the fact that she knows how to write an intelligent female character. Even though I really like Rachel Gibson's writing, I usually don't like her heroines because we usually hear more about their shopping and clothes habits than their smarts. Cameron is a great balance. I think that's due in large part to Julie James's own education and intelligence. Jack is great, too. A fun book!