I was really impressed with
Tessa Dare
's debut series, and so I thought I'd give her new series, The Stud Club (she makes fun of that name herself, don't worry), a chance. Well, as far as the first book,
One Dance With a Duke
goes, I wasn't disappointed. This is a great book!
Spencer is a duke who grew up in the wilds of Canada until his uncle summoned him back to England to prepare him to take over the duchal responsibilities. He is not particularly sociable, and thus he has developed quite a reputation. His mysterious reputation increases due to the fact that he shows up at
ton
events precisely at midnight and then selects one young woman to dance a single dance with.
Amelia is the only daughter in a family of poor aristocrats. Her brother Jack is four hundred pounds in debt to the duke, and so when he arrives at a ball one night, Amelia takes matters into her own hands and essentially forces him to dance with
her
so that she can discuss her brother's debt. Except that happens to be the night that the leader of the Stud Club, Leo, is murdered. The Stud Club is rather simple. There are ten tokens that represent ten ownership shares to a valuable stallion. Each token holder has breeding rights to the stallion. Tokens can only be transferred by gambling them away. As it turns out, Spencer has been making it his mission to win all ten tokens. When Leo is murdered, there are only three other owners: Spencer, Rhys, and Julian. When Rhys and Julian show up at the ball to tell Spencer that he has to help them break the news to Leo's sister Lily, Amelia is present and insists on accompanying to give Lily some female support. By the end of their evening together, Spencer has decided that he wants to marry Amelia.
What I liked about this book was this: it was a speedy marriage, but it wasn't a marriage of convenience. Spencer asked for Amelia's hand because he was immediately attracted to her. And Amelia accepted because she was a spinster and because she was attracted to Spencer, too. Not only that, but Spencer is simply a nice guy. A really good guy. It can be hard for authors to create a hero that is both an alpha male and not a jerk. But Dare did a great job, here. The way that Spencer's history and character is revealed as the book goes on makes it so there is no need for silly plot devices.
Admittedly, the book falters a bit at the end and wanders into cliched territory. But that doesn't negate what came before. A simple, enjoyable little romance novel.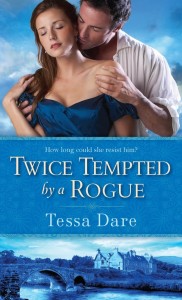 Because I liked
One Dance With a Duke
so much, I was excited to read
Twice Tempted by a Rogue
. But it just didn't deliver.
This book is about Rhys, a scarred war hero who inherits his father's baroncy. The book begins when he goes back to his lands, which are not much considering that the manor house burned down over a decade ago and the family abandoned the area. When Rhys returns, he meets Meredith, the daughter of his family's former stablemaster. Meredith is a widow who married the local innskeeper and now runs the inn in an effort to bring more commerce to her struggling community. Rhys believes in fate because, as he sees it, he's tried to kill himself for years by getting into fights, charging the front lines during battle, etc, and he's stil alive. It is his fate to survive. And when he sees Meredith, he figures that it's his fate to marry her. He tells her that a lot.
Now, Meredith is attracted to Rhys. She's had a crush on him her entire life, and she'd like nothing more than to jump into bed with him. But she's not interested in marriage because she doesn't want to give up her inn, and she thinks Rhys won't stay in the area despite his assurances otherwise.
And... there you have it. That's about it as far as the compelling story goes. Somewhere along the line, however, Rhys and Meredith's roles reverse, and to me, that felt very sudden. Rhys gives up on fate and Meredith decides she wants to be with him. To be honest, I just kind of raced through the last fourth of this book, so I don't really know what was behind this switch. All I know is that I found it very confusing.
The biggest problem, though, was the lack of chemistry between the characters. Spencer and Amelia from
One Dance With a Duke
had plenty of chemistry, but I just didn't feel it between Rhys and Meredith. As a result, I didn't care about what happened to them. Oh well, even the best writers have to stumble sometimes. There was nothing wrong with the writing in this book, though.