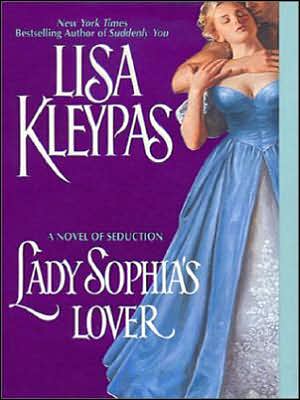 Well, I finally read
Lady Sophia's Lover
, probably close to a year after I read it's sequel
Worth Any Price
, and some time after its prequel
Someone To Watch Over Me
. It was nice to get back to Lisa Kleypas's historicals, because I really enjoy them.
The basic premise of
Lady Sophia's Lover
is that Lady Sophia, who was orphaned as a young girl and subsequently separated from her younger brother, is seeking revenge from the magistrate that sentenced her brother to work on a ship as punishment (where he later died). Luckily for her, the magistrate is Sir Ross Cannon, the man who is in charge of the Bow Street runners, and he needs a new clerk/secretary. So she goes and applies for the position and gets it, but her intentions all the while are to seduce Sir Ross and break his heart, and also to steal confidential files and go public with them to humiliate him. The seduction part isn't too hard, because he's drooling over her from the minute he sees her, but after weeks together they both start to have genuine feelings of
loooooove
. Now what is she to do?
Since I had already
Worth Any Price
, I knew what the big surprise/conflict at the end would be, but that was okay because I still liked it. It's pretty rare for me that Kleypas doesn't write a hero that I don't like, and this book was no different. I really liked Sir Ross because he was the perfect mix of real man and nice guy. Sophia was enjoyable as well, and I'm glad that Kleypas didn't make a huge affair about how Sophia would deal with the fact that her feelings for Ross began to change. She gave it little attention, but at the same time it was completely believable for me, especially because she began to change her opinion on him based upon things other than the fact that she was sexually attracted to him.
Lindsey's Grade
: B+